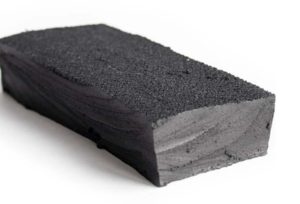 DEVULCANISED RUBBER SLAB
DEVULCANISED RUBBER SLAB is another ground breaking product. GENAN possesses the R&D, technology and know-how to devulcanise rubber powder from end-of-life tyres. Through this technology, devulcanised rubber of unsurpassed quality is manufactured, opening a whole new world of interesting application prospects.
The technology used for the devulcanisation process is a combined thermal/mechanical process.
The GENAN devulcanised rubber product is the result of an R&D project with a large European tyre manufacturer and has been tested by one of the most reputable European laboratories in the rubber industry (ERT BV). During this project, the successful substitution of virgin elastomers through GENAN devulcanised rubber was achieved.
GENAN devulcanised rubber is supplied as uniform rubber slabs cut to size.
Examples of applications could be: Tyres, conveyor belts, mill linings, anti-vibration and noise-reduction products.